THERAPEUTISCH PAARDRIJDEN
BEGELEIDING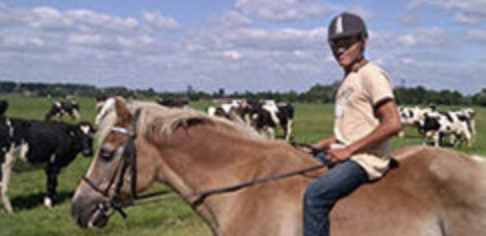 "beweeg, geniet, ervaar en leer van mens, natuur en dier!"
Voor kinderen met een (psycho)motorische beperking bestaat er de mogelijkheid om speciaal begeleid te worden, zodat het paardrijden geheel afgestemd wordt op de mogelijkheden en wensen van het individuele kind. Voor meer informatie mailt u naar mieke@kindenfysio.nl.

OOK OP ZOEK NAAR EEN LEUKE SPORT IN DE BUITENLUCHT?
Met geduld en doorzettingsvermogen is veel te bereiken!!! Stel je voor dat je je helemaal thuis gaat voelen tussen de paarden en dat je (met of zonder hulp) zou kunnen gaan beschikken over rijtechnische vaardigheden waardoor je een combinatie gaat vormen met een paard of pony.
Op ponyboerderij Honswijk in Schalkwijk is er voor kinderen en jong volwassenen met een beperking de mogelijkheid om deel te nemen aan paardrijlessen op maat. Als kinderfysiotherapeut zijn wij ons bewust van het belang van sport voor iedereen. De omgang met paarden heeft voor kinderen met een beperking zowel op lichamelijk-, psychisch en sociaal-emotioneel gebied een zeer positief effect. Wanneer je dit ziet begrijp je vast ook het belang van onze activiteiten voor deze doelgroep.
Gezellige lessen met individuele aandacht, aangepast aan de mogelijkheden van het kind, zijn het uitgangspunt. Bewegen moet voor iedereen een feest zijn.
Door een ervaren kinderfysiotherapeut wordt er beoordeeld of er bij het individuele kind voldoende mogelijkheden aanwezig zijn om paard te kunnen (leren) rijden.