SENSORISCHE INTEGRATIE
BEGELEIDING VAN KINDEREN MET ZINTUIGLIJKE AFWEER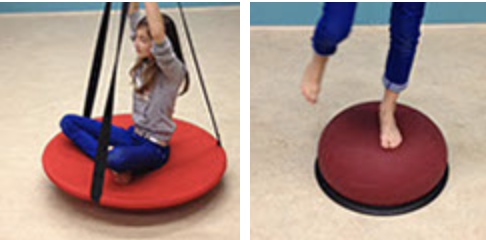 Kinderen met zintuiglijke afweer  hebben een overreactie op ogenschijnlijk normale prikkels. Ze worden soms beschreven als ontwijkend, soms overactief, emotioneel, onevenwichtig en/of juist op zoek naar zintuiglijke prikkels. Ieder mens heeft zijn eigen manier van reageren. Er kan een afweer bestaan tegen één type waarneming (bijvoorbeeld overgevoeligheid voor aanraking) of tegen vele soorten indrukken (lichte en/of onverwachte aanraking, plotselinge beweging of overmatig reageren op bewegende of onstabiele ondergrond, hoge geluiden, veel geluid of visuele prikkels of bepaalde geuren).
Als iemands gedrag overheerst wordt door zintuiglijke afweer, kunnen andere sociaal/emotionele symptomen optreden. Deze secundaire effecten vormen een nieuw probleem dat op zichzelf staat maar met het eerste samenhangt. Slechte gewoonten en aangeleerde angsten kunnen hardnekkig blijven bestaan als ze niet apart worden behandeld.
BEHANDELING:
Een van de belangrijkste stappen bij de behandeling is het verwerven van het inzicht in de symptomen en het gedrag dat met het probleem samenhangt. Meestal gebeurt dit door middel van een gesprek waarin de zintuiglijke ontwikkeling zorgvuldig wordt nagegaan met de therapeut. Zodra het gedrag van het kind begrepen wordt, kan er zintuiglijke informatie aangeboden worden die de afweer kan beïnvloeden.
Behandeling van zintuiglijke afweer bestaat uit 3 delen:
• Bewustwording.
• Een goed doordacht, schematisch ingedeeld activiteitenprogramma.
• Een door een beroepskracht begeleid behandelingsplan.
Een activiteitenprogramma bestaat uit:
• Bepaalde, op gezette tijden uitgevoerde handelingen.
• Aanpassing en verandering in gewoontes en omgang
• Verandering in de omgeving of van gewoontes
• Stimuleren van deelname aan spel-en hobby-activiteiten
BEHANDELVORM:
Individuele begeleiding door een speciaal opgeleide kinderfysiotherapeut.
De therapeut moet nauw contact onderhouden met het gezin, onderwijzers en anderen die met het kind te maken hebben.